Before I start this post, I just want to say that Disc-Overy by Tinie Tempah is probably the best album I've heard in 2010. I thought it was important to get that out, Just Sayin'.
So, yesterday I was discussing with a few friends who the 'best' celebrity is. The prettiest, the most stylish, the most charitable, the most talented, the most lovely, the best. A few names were thrown up, including Miley Cyrus, Taylor Swift, Cheryl Tweedy, and in fact even Taylor Momsen was in the mix... think what you will. But upon careful consideration, I came up a more refined shortlist of my own. These people I possibly admire more for how they look and dress than anything else, but nevertheless each of the people are talented in their own way.
FEARNE COTTON
She is probably one of the hardest working women in the media today; she returned back from a breat cancer trek in Peru and was back at work on Radio1 just 12 hours later. She's charitable, talented, pretty, and oh so fashionable. She ALWAYYYSSS looks completely amazing in a kind of scruffy, carefree way.
MILEY CYRUS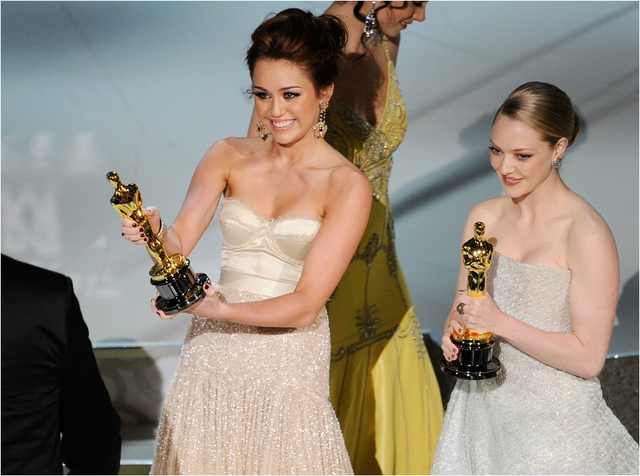 I know I mentioned her before, but Miley is pretty amazing. She looks absolutely stunning here presenting an Academy Award; she's not as wholesome as Disney would like to make out and I think thats one of the reasons why I love her so much. She's a normal teenager, she's not clean cut, but she
is
beautiful. And a talented actress. And a wonderful singer.
CHER LLOYD
I feel I've gone out ona bit of a limb with this choice, because to be fair although what we've ssen from her has been phenominal so far, its whether or not she can keep this level up that will determine her as 'talented.' However, I picked her mainy because she's so different. Cher is a refreshing change to the X Factor who I am a huge fan of, and will be voting for every week.
The thing that links these three together, in my opinion, is the way they hold themselves; they are poised, elegant, and their posture shows that they are proud of who they are and what they're doing. And the greatest aid to poise is an amazing pair of shoes, to force you to stand up tall and proud. My favourite are below...
KG By Kurt Geiger, Estrella 2 Heeled Shoe, £140 at asos.com